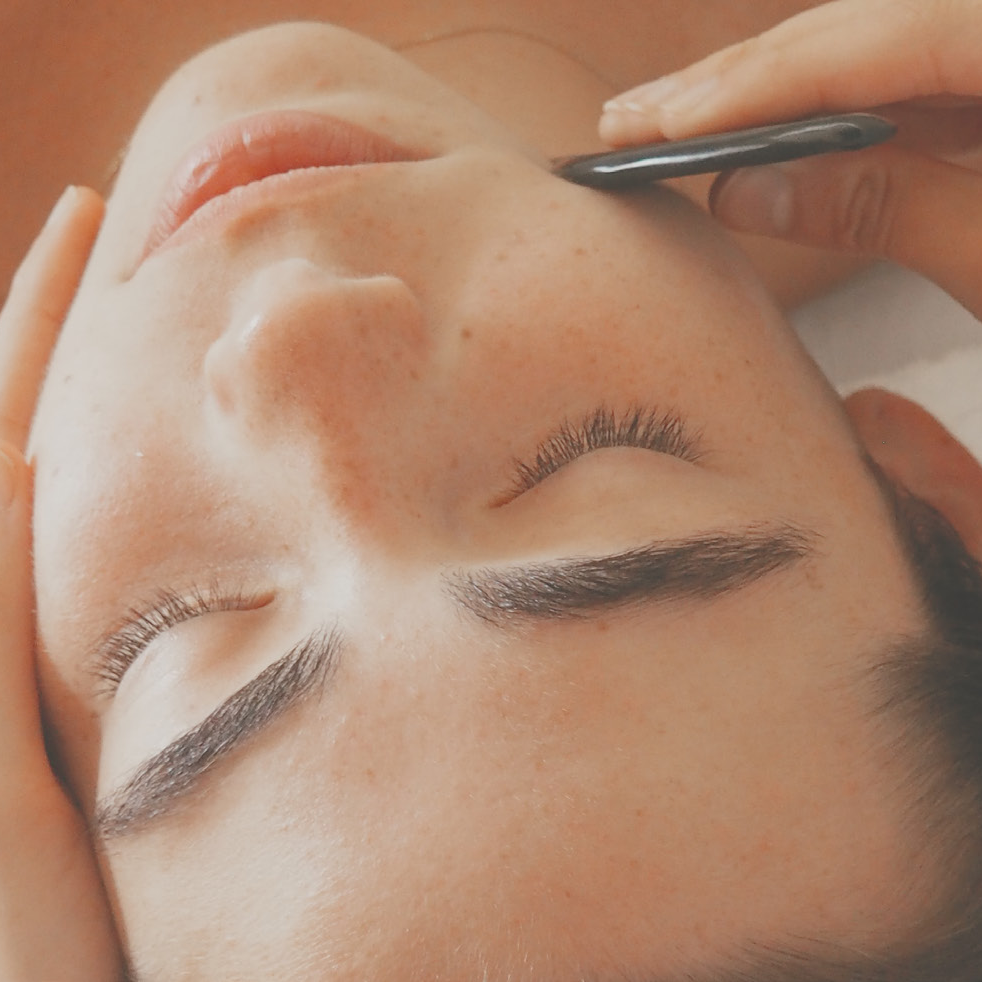 Where are you located?
Our skin lab is located in the heart of Miami, FL on "Calle 8" in the up-and-coming neighborhood of Little Havana. Calle 8, also known as 8th Street, is the largest celebration of Latino culture in the United States and is the center of Cuban history. This is a street you hear about in many songs including Pitbull's, and we chose this location because we wanted to be part of a movement that supported not only smaller businesses, but Latin-owned ones as well. Many new small businesses are opening around this area, and we believe the future will bring amazing opportunities to this vibrant neighborhood.
What is your skincare philosophy?
Our skincare philosophy is divided into three main categories, what we call the three essential habits.
The first habit is to "heal from within." Our skin is ultimately a reflection of our daily habits, it shows us what is functioning and what is not functioning inside our bodies. If your skin is acting up, you should first take a step back and go through your lifestyle, diet and stress levels and see if there is anything that is negatively affecting you.
The second habit is "think healthy skin, not perfect skin," because there is no such thing as perfect skin. Everyone is dealing with a skin concern, whether it be pores, acne, redness, sensitive skin, etc. The healing process takes time, and it's important for everyone to understand at what stage of their healing process they might be in and what steps they should take.
The third habit is "less is more," and this is true for almost everyone out there. You do not need 10+ products in your skincare routine for it to be healthy or for you to glow. Find a few products that work for you and keep your routine simple, and your skin will thank you in the long run!
What sets your brand apart from others?
We believe that what sets Habits apart from others is the fact that we truly understand what it feels like to struggle with a skin condition and wanting to achieve healthy skin, but not being able to afford the right treatments. We know what it feels like to be under budget but to still want to buy the most expensive product out there because social media convinces us that this one product will fix all of our problems!
That said, we decided to have our Skin Lab be a healing place for everyone. We keep our prices low and our quality high. We can do this by making our facials customizable and charging separately for add-ons so that people can decide what to get and what not to get, and still benefit from a full facial experience without having to spend all their money on a single visit. We truly believe we have made the facial experience better and more affordable in Miami by making our skin lab a skin haven for all! We also try everything before selling it in our store, and that is how we are able to recommend it to others without any doubt.
Tell us about your spa's most popular treatment:
The Gua Sha Facial + Scalp Massage is our most popular treatment. It's perfect for all skin types and is a best-seller among aging skin because it helps promote circulation by waking up the skin while also leaving it vibrant and ready to glow. Teaching people new skin healing techniques makes us happy, so we love performing this treatment on our clients because it keeps them interested in learning about skin healing alternatives while also giving them the ultimate selfcare sensation. The Scalp Massage add-on is just an extra form of self-care. The scalp can get dry too, so we use oils that deeply hydrate and nourish, while also promoting hair strength and growth. Combining both of these treatments is an amazing experience, we have had people fall asleep from relaxation during the treatments, and that to us is heaven!
What does Clean Beauty mean to you?
The skincare industry has evolved incredibly over the past years, and we are thankful for that! We believe that nowadays, there is a clean beauty alternative to any chemical-infused product out there. We like to stick with products that have no alcohol, sulfates, parabens or fragrances. Our goal is to use products that are gentle on the skin by avoiding common irritants as well as ingredients we are not familiar with as they can be harmful.
That said, clean beauty to us is more than the ingredients, it is about being smart with the products you decide to apply to your skin. For instance, instead of using a serum or moisturizer filled with a plethora of ingredients that are deemed to hydrate your skin, you could pick one good facial oil and benefit from its hydrating and nourishing properties (and yes, even those with acne-prone skin could benefit from a good facial oil)!
Our body oil is 100% natural and clean, contains no harsh ingredients, no preservatives, no parabens and is cruelty-free. We source all ingredients from ethical farms and certified suppliers that offer the highest quality plant-based ingredients. Our Blossom Body Oil provides a rich dose of antioxidants to nourish, protect and brighten the skin. The product contains whole ingredients such as pure jojoba and rosehip oil that will ultimately deliver softer, smoother and more hydrated skin. The Blossom body scrub has additional Himalayan Sea Salt to help gently detoxify your skin & keep it smooth.
At the end of the day, it should be about the small habits you incorporate to your skincare and your lifestyle, what makes you feel better and what brings the most benefits to your skin. Most, if not all of the time, clean beauty is the right answer.
What is your favorite skincare ingredient?
Sea Buckthorn oil is by far our favorite skincare ingredient. It's gentle, nourishing, acts as an exfoliator, and is an overall incredible oil to have in your skincare routine or in any of your products! It is beneficial for all skin types and conditions as it promotes skin hydration, elasticity, cell regeneration and even helps treat acne. We currently have a seabuckthorn oil cleanser at our skin lab and it is our #1 product! Oil cleansing is a game changer!
What business advice would you give to another esthetician just starting out?
Be yourself! The industry is extremely congested, and it could be easy to get lost in it.  But at the end of the day, what matters is who you are, what your brand represents, what your clients need, and how to combine all ends in order to stay profitable, help your clients heal, and continue developing your dream. Even in uncertain times, as this pandemic has been, it is important to stay on top of everything, to avoid the negative thoughts or high stress levels and to continue moving forward with confidence.