Luxurious indulgence and blissful relaxation culminate in the newly renovated Peninsula Spa Beverly Hills. This hidden gem offers seven treatment rooms plus a blow out bar, nail suite, serenity lounge and dry saunas featuring a dramatic and beautiful Himalayan salt crystal wall. The Spa offers dozens of advanced results-based facial and body treatments, as well as custom massages, packages, and hair and nail services. With industry leading skin care lines such as Biologique Recherche and Medical Beauty Research, The Peninsula Spa Beverly Hills is a skin care sanctuary for every guest walking through its doors.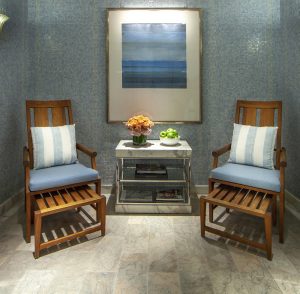 New and Improved
The Peninsula Beverly Hills has recently finished a complete renovation of its 4,600 square foot award-winning spa, along with unveiling new treatments that are exclusive to the Beverly Hills location. Conceptualized by Beverly Hills-based interior design firm Forchielli Glynn, the spa's new stand-out features include pink Himalayan salt dry saunas, hair and makeup studio, dedicated outdoor pool spa cabana and upgraded serenity lounge. In addition, The Peninsula Spa Beverly Hills now offers exclusive product lines, including Subtle Energies and MBR Medical Beauty Research.
Signature Treatment
The Peninsula Spa Beverly Hills' signature treatment is the Organic Oxygen Facial (60 or 90 minutes, $300 or $410). This facial treatment uses oxygen mist in its most pure and concentrated form to leave skin firm, clear, and radiant while restoring essential hydration. Using high potency organic bio-swiss serums, the esthetician custom blends a formula to erase all signs of redness, sensitivity, premature aging, and dullness. This treatment is also great for stimulating collagen and elastin. It is ideal for sensitive skin.
Marketing
The Peninsula Spa Beverly Hills attracts a large local following. The spa's director, Allison Kirsten, says, "Being in Beverly Hills, we have a strong local following so we rely mainly on referral business." Word of mouth and client referrals are still one of the number one marketing strategies for spas and skin care businesses, even in today's age of social media.
The spa also takes advantage of the Peninsula Hotel's various offerings, such as restaurants, and offers discounted services for patrons of these outlets. Kirsten says, "We have a 20 percent off Happy Hour special Monday through Friday from 2pm-10pm. We also have a special called "Under the Stars" where locals have pool access from 6pm-10pm Monday through Friday if they book a spa treatment."
Although the spa has a large and loyal following of local clients, Kirsten says they are starting to amp up their social media marketing strategies: "We are starting to do more social media, especially on Instagram with stories. We also are starting to offer more spa promotions online for the upcoming summer season."
Training
Maintaining the luxury standard at The Peninsula Spa Beverly Hills requires each team member to be motivated. Spa Director Allison Kirsten explains how she keeps her team performing at such a high standard: "We have monthly spa meetings with the entire team to review communications, goals, new protocols/treatments. We very much have an open-door policy with the team, so we try and touch base with employees every day during their shifts." Daily check-ins and an open door policy promote a sense of security and transparency in the workplace.
Every six months, Kirsten conducts a performance review with each individual staff member. She also holds monthly competitions to encourage them to book certain treatments or sell certain retail products. Friendly competition is a great motivator!
Retail
The Spa at The Peninsula Spa Beverly Hills curates a selection of luxury skin care lines for clients looking to maintain and accelerate the results of their in-spa treatments. When selecting lines to carry in the spa, Kirsten says, "We focus on creating consistencies with our other Peninsula Spas throughout the world when selecting our retail lines. We currently carry Medical Beauty Research, Luzern, Kos, Subtle Energies, Biologique Recherche, and Deborah Lippmann."
Spa Director Kirsten believes that the results speak for themselves. When asked how she incentivizes service providers to sell products, she says "Our estheticians are encouraged to pull a couple of products after each facial to educate clients on the benefits of skin care. We don't discount or incentivize clients to purchase, as we believe that the exclusivity and potency of our product lines speak for themselves. The guests see the results and purchase on their own."
Spa Director Spotlight
Born and raised in Cape Town, South Africa, Allison Kirsten was always active as a child and participated in every sport in both grade and high school. Her love for fitness continued throughout her adult years and after working in the hotel industry after college, Allison worked for the world's largest luxury sports and fitness company. Eventually, she climbed her way up the ladder to General Manager and ran clubs in New York and San Francisco. In her early 30's, Kirsten transitioned in to high-end hotels, working for Four Seasons and Ritz-Carlton. Kirsten believes she has "the best of both worlds, working in beauty and wellness while combining my love for hospitality.