Spa Director Spotlight
Bevin got her start in the wellness industry in 2014. She has a bachelor's degree in Metaphysics and is currently working on her Masters. Her passion is to create a blissful, curated Spa experience for each member and client who comes to Larchmont Sanctuary Spa.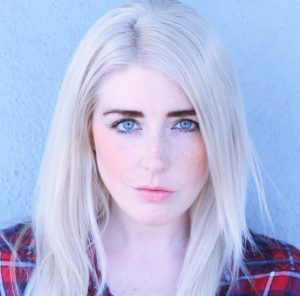 Located in the historic Larchmont Village of Los Angeles, California, The Larchmont Sanctuary Day Spa is a zen destination awaiting all those who enter with an inviting sense of warmth and serenity. A haven for guests looking to find balance in their busy lives, The Larchmont Sanctuary Spa offers healing treatments using the best techniques from around the world in the comfort of a neighborhood boutique spa. Offering both indoor and outdoor experiences, guests come to immerse deeply into a garden of relaxation.
SIGNATURE TREATMENT
Spa Director Bevin Hamilton says the spa is "known for [their] couples experiences," and their most popular treatment is the Couples Date Night Package (1 hour 50 min, $449). She explains, "This package begins with you sipping champagne in our Coppertino Jacuzzi tub, then on to 90 minutes Couples Head Over Heels Signature Massages which includes Scalp Therapy and Reflexology." The spa's menu describes this luxurious package as a romantic getaway to "enjoy some romantic Zen time that's so much more than dinner and a movie." This treatment utilizes multiple individualized massage techniques and includes a warm olive and jojoba oil massage and foot reflexology for full-body relaxation.
The Larchmont Sanctuary Spa offers an extensive menu of couples packages, including the Escape Together Package (1 hour 20 min, $325) which includes a 20 minute bath and 60 minute massage; the Rekindle Romance Package (1 hour 50 min, $445) which includes an aromatherapy massage, organic sugar scrub and champagne bath; and The Ultimate Romance Package (3 hours 55 min, $1,224) which includes a 20 minutes bath, 90 minute jade stone massage, salt scrub, vitamin C facial and custom bathrobes to commemorate the experience.
MARKETING
The Larchmont Sanctuary Spa uses social media, online reviews and word of mouth to gain new clients and keep regular clients engaged with helpful content. Spa Director Bevin says, "We attract new clients through all of the most popular social media driven methods, but get a good deal of new clients through Yelp, and word of mouth." The spa's Instagram feed is decorated with colorful and attractive photos of couples enjoying the spa's standout treatments. Engaging content that is authentic to your spa's own personality is vital to growing a loyal following.
Spa Director Bevin also notes that their marketing strategies are not static. She says, "Marketing techniques vary from season to season but we are constantly exploring new social media channels and techniques."
TRAINING
Frequent and organized team meetings are essential for continuing on the up and up with any skin care or spa business. At The Larchmont Sanctuary Spa, Spa Director Bevin says, "We have periodic team meetings to discuss improvements and to talk about new spa treatments, announcements and events." While team meetings are essential for keeping everyone on the same page, individual performance reviews are necessary to improve service outcomes and overall customer experience. Bevin says, "I am constantly reviewing staff performance and looking for ways to not only improve the spa experience for clients but for my staff as well. I set goals for the spa and work with each staff member individually to help them set goals for themselves."
Keeping employees motivated is easy when you have effective incentives put into place. At The Larchmont Sanctuary Spa, Spa Director Bevin offers her advice: "One of the most important things to me as a Spa Director, is to give my staff the ability to learn and improve. We offer continuing education for exemplary performance in the workplace and hold quarterly workshops on various modalities/therapies. We also send our staff members to Oncology Training with the prestigious Greet The Day, who offers accredited post-graduate oncology massage and skincare education. We hold a bi-annual event called 'Day of Renewal' which is a complimentary spa day for those nearing the end of their cancer treatment."
SPECIAL EVENTS
Because The Larchmont Sanctuary Spa has so many amazing couples packages, Valentine's Day is one of the spa's busiest holidays. To take advantage, Spa Director Bevin creates specialized experiences for couples to enjoy: "Valentines weekend is always a wonderful time of year for us. We have special valentines couples treatments available, with gift bags, chocolate covered strawberries and champagne. This year we did movie-themed treatments such as "A Star is Born" and "Shakespeare in Love" and we had a flower wall for couples to take pictures in front of."
RETAIL
The spa offers a variety of retail lines, ranging from local vendors to results-based skin care lines. Currently, the spa carries Topikal (CBD), Jax Kelly Candles, Le Mieux skincare and Heather Renae Designs (Jewelry). Spa Director Bevin ads, "We are a boutique spa located in the wonderful Larchmont Village. We love to promote with our local vendors. The retail we sell at the spa is a very curated experience. I am always researching the latest new products and attend spa events throughout the year."
When it comes to offering home care for clients to continuing seeing improvements in their skin, Bevin says, "The magic is in the results. Our clients love to buy our retail because they know that we carry the lines with the best/healthiest ingredients and efficacy."