With Janel Luu, CEO Le Mieux & PurErb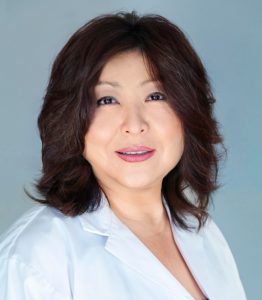 What is the gua sha facial? How is it good for the face?
Meridian gua sha massage has been around for thousands of years, with its origin in Traditional Chinese Medicine. Gua sha massage strokes move along a network of Meridian lines and Meridian points. Studies have shown gua sha to increase blood circulation by 400%. As a bonus, gua sha facials sculpt facial contours, smooth out underlying fascia and muscles, clear lymphatic pathways, decrease inflammation, and even help relieve tension, which can often be seen in the face. The visible result? Increased radiance. Reduced puffiness. Minimized lines and wrinkles. Smoother texture. The neck looks longer and thinner. Facial contours look more defined. Clients feel relaxed and energized at the same time.
How does a gua sha facial work?
Meridian gua sha facials are based on an ancient system of Meridian pathways, which are like "energy freeways of the body," as well as Meridian points, which are similar to those used in acupuncture treatments. There are 10 primary facial Meridian points that are used as a guide when performing gua sha massage strokes. Whether using the jade board, jade roller, or the latest cup-shaped jade tool for gua sha treatments, you can compare gua sha strokes to the idea of moving a lot of dirt underneath the water and bringing up the impurities to flush them away. When dealing with the flow of energy and toxins in a gua sha treatment, the massage strokes must move in one direction, without using back-and-forth strokes.
Le Mieux Oxygen Detox Gua Sha Sculpting Protocol
To brighten the complexion and detoxify the skin, start by stimulating Meridian lines on the head. Then clear the scalp line from top to below the occipital rim, then clear behind the ear, drain, clear in front of ear, and drain.
To restore facial symmetry and balance the face, follow Meridian lines as you start with the neck, move to back of neck, then to scalp, to side of face, jaw, to lymphatic pathway, and return to the neck. The goal here is to tighten muscles and remove trigger points for wrinkles caused by repeated muscle movements and facial expressions like smiling or frowning. Advanced gua sha stroke techniques help sculpt the face while creating symmetry, lifting the areas around the eyes, and improving elasticity.
What is the difference between gua sha stones and face rollers?
The jade roller is easy to use for a beginner, but basically has only one shape and one motion. Jade gua sha stones or boards come in various shapes, with different edges that are used for contouring and sculpting different areas of the face. Overall, whether using jade rollers, jade boards, or cup-shaped gua sha tools, the most important thing is to move in the direction of the flow of Meridian lines connecting Meridian points. With gua sha, as with acupuncture, knowing the location of the Meridian points and Meridian lines is essential. For example, you wouldn't want an acupuncture needle inserted randomly! A lot of information can be found on the Internet, but is it really helpful? A short YouTube video cannot necessarily provide deeper knowledge of the locations of Meridian points and Meridian lines. For that reason, estheticians are encouraged to attend classes and do hands-on training to improve their gua sha skills.
Does the quality of the gua sha tool matter?
Quality enhances the experience—having a smooth yet sturdy tool that is easy to grip is very important in performing gua sha strokes with jade stones.  In Meridian gua sha massage, jade gua sha tools are recommended, especially since they are used in traditional Chinese medicine. Jade in particular contains many therapeutic minerals. Rose and purple quartz tools can also be sturdy and effective. But the most important takeaway is that the power is in the Meridian pathways, not just the choice of tools.
What are the best gua sha tools and how do you pick?
The best tools are sturdy, easy to handle, and appropriate for the area to be worked on. Use tools with ridged or curved edges in gua sha massage for the scalp. Use tools with a smooth, peaked edge around eye areas. The gentle curves and scalloped edges on certain jade tools can be used to help ease tension in the scalp, forehead, and neck. Rounded or cup-shaped gua sha tools can also be used on the wrist or the arms to ease mild discomfort from working at a keyboard. A bell-shaped gua sha tool has a cupped edge that can be used on the face, neck, and décolleté. The round handle of the bell-shaped gua sha tool can be used to gently press on pressure points around the eye areas.
How does gua sha complement the effectiveness of skincare products?
Jade gua sha rollers or boards are ideal for evenly spreading products like facial oil, facial balm, serum, moisturizer, and sunscreen across the skin. Gua sha complements the effectiveness of skincare products since gua sha strokes along Meridian lines help improve the penetration of skincare products. In fact, for older clients, serums should contain antioxidants, peptides, stem cells, and growth factors to protect against environmental aggressors and to help skin cells regenerate faster.
Where does gua sha fit into a facial protocol?
Gua sha can be used in a scalp massage at the beginning of the protocol, which helps stimulate circulation and relax the client. After the scalp massage, a jade gua sha tool can be used to perform lymphatic drainage from the ear area down lymphatic lines. After lymphatic drainage with gua sha, the treatment continues with a double cleanse and exfoliation. After exfoliating, the esthetician performs gua sha on the face, eye areas, neck, and décolleté. Gua sha can then be performed over a sheet mask. After the mask, the gua sha tool can help evenly spread serum, moisturizer, and sunscreen across the skin. For an extra special technique that enhances the client's sensory experience of the gua sha treatment, refrigerate a jade gua sha stone before beginning the facial. When ready, warm your hands on a hot towel, then work with hot hands and cold stone. Immediately afterward, warm up the stone and work with cold hands. Clients love the way this reversal feels.
Achieve the "Glass Skin" Glow with Le Mieux's Oxygen Detox Gua Sha Sculpting Protocol
Oxygen Detox Gua Sha Sculpting Protocol with products from Le Mieux and PurErb helps clients achieve a "glass skin" glow. This oxygenating and double masking facial incorporates gua sha as well as a handheld oxygenating tool and is recommended to help draw out impurities, improve clarity, boost hydration, and brighten skin. Meridian gua sha techniques and Le Mieux O2 Infuser work together to detox stressed skin, re-sculpt facial contours, and press away wrinkles, while creating a "glass skin" glow.
1
Cleanse
Mist Le Mieux Iso-Rose Hydrating Mist over face. Apply PurErb Caviar Lime Cleansing Foam to the face, neck, and décolleté. Use Meridian massage to detoxify and open lymphatic channels. Remove product.
2
Exfoliate

& Scalp Massage

Apply Le Mieux Microderm Exfoliant. Use silicone applicator to mix 1 scoop Le Mieux Hungarian Enzyme Mask with 4-5 pumps PurErb Bubble Mineral Essence and layer on top of Microderm Exfoliant. Place wet gauze and a warm towel on top. Use Q-tip to apply PurErb Meridian Scalp Stimulating Oil to scalp. Use Le Mieux Celadon Meridian Crown to perform Meridian Scalp Massage for 15 minutes. Remove towel and gauze. Lightly massage face and neck. Remove exfoliant and mask. Rinse well.
3
Exfoliate
Use Le Mieux Vita-C Clear Skin Pad to make 1-2 passes over face, avoiding eyes.
4
Clay, Gel Masks & Massage
Use silicone applicator to apply ½ tsp Le Mieux Icy Revitalizing Mask to face. Let dry 5 minutes. Use applicator to layer 1 tsp Le Mieux Lavender Floral Mask on top of Icy Revitalizing Mask. Apply Le Mieux Hyaluronic Shea Mask to décolleté. Perform Meridian massage on décolleté with Le Mieux Bell Zhong gua sha tool. Perform Meridian massage on face. Remove masks using warm sponge and towel.
5
Serum &

Massage

Mix 2-3 drops Le Mieux Rx Complex Serum, Le Mieux Hyaluronic Serum, and 1 pump PurErb Bubble Mineral Essence. Use fan brush to apply to face and neck. Perform Meridian massage.
6
Cream Mask & Massage
Apply 2 tsp Le Mieux Hyaluronic Shea Mask on décolleté, neck, and face. Use Le Mieux Mountain Shan jade board to perform Meridian massage.  Remove excess product with warm sponge.
7
O2 Infuser

treatment

Attach mini-flask to top of Le Mieux O2 Infuser. Fill halfway with Le Mieux Oh My Glow Activator. Add 2-3 drops Le Mieux Oh My Glow Serum. Close lid and gently shake flask to blend liquid. Press and hold power button once for high intensity and press again for low intensity. Pull back on sprayer switch to dispense oxygenated mist. Perform treatment. Press and hold power button to turn off.
8
Sun Care
Evenly apply 1 tsp Le Mieux Vita-C Skin Protective Crème (N-D) to face, neck, and décolleté.