With Janel Luu, CEO of Le Mieux Cosmetics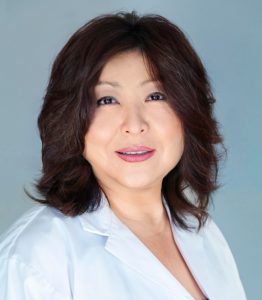 What are the benefits of an Oxygen Facial in the Summer?
Oxygen facials help counteract and prevent oxidative damage during summer due to exposure to UV rays, chemicals in swimming pools, dry air from air conditioning, arid or humid environments, and more. Plus, who doesn't love getting pampered during a treatment that instantly cools, refreshes, and makes skin look great? Oxygen facials are almost like relaxing underneath one of those large misting machines you walk through at hot outdoor events, but the skin benefits go much farther!
Can you tell us a bit about your O2 Infuser and what it does for the face?
Le Mieux O2 Infuser takes up oxygen from the air and oxygenates ingredients in water-based skincare. Oxygenated particles are then dispensed in a skin-loving mist that feels great. This easy-to-use tool not only oxygenates but also micronizes water-based skincare and instantly saturates skin with an ultra-fine mist, even in hard-to-reach places. O2 Infuser fast-tracks active ingredients to targeted areas, so instead of just sitting on the surface, they are deeply absorbed, leaving a youthful-looking volume and luminous glow.
Le Mieux Oxygen Detox Gua Sha Sculpting Protocol
What makes it unique from other Oxygen Infusers on the market?
O2 Infuser has no cartridges and is compact. It's the only tool with an activator and a serum specifically formulated for it: Le Mieux Oh My Glow Activator and Oh My Glow Serum, which contains no fillers or gums that would clog the nozzle over time. Used with O2 Infuser, Oh My Glow Activator and Oh My Glow Serum instantly volumize, fill in lines, and create a coveted "glass skin" radiance.
Who is suitable for an Oxygen Facial? How often can one get an Oxygen Facial?
O2 Infuser can be used for cooling and refreshing any time during the day, not just during treatments. Since skin changes according to the season, environment, and lifestyle, any skin type is suitable for an O2 Infuser facial when the ratio of serum and activator is customized. For example, after the mini-flask on O2 Infuser is filled halfway with Oh My Glow Activator, Oh My Glow Serum is added according to skin condition. For oily skin: 2-4 drops serum. For dry skin: 1-2 pipettes serum. For very dry, mature skin: 3 pipettes serum.
Can this treatment be paired with other treatments?
O2 Infuser treatment can be incorporated into other facial treatments. One particularly popular treatment is Le Mieux Oxygen Detox Gua Sha Sculpting Facial, which uses O2 Infuser and Meridian gua sha techniques to detox stressed skin, re-sculpt facial contours, press away wrinkles, and create a "glass skin" glow.
Does an oxygen facial help with Summer skin damage? What are some ways summer skin damage can be reversed in the treatment room?
Yes, add oxygen treatment to facials. Include a cleanser containing an AHA (mandelic acid is ideal for even sensitive skin), an enzyme mask, brightening and hydrating toner, a peptide-infused and antioxidant-rich serum, a calming sheet mask, eye and lip therapy, and sunscreen. Since summers are ideally meant for relaxing, supplement the treatment with aromatherapy and a customized music selection.
What are key ingredients to help reverse summer skin damage?
Zinc oxide and titanium dioxide deflect UVA/UVB rays and protect skin against oxidative damage.
Vitamin C blocks neutralize free radicals and help encourage collagen production.
Vitamin E helps reverse signs of environmental damage.
Rice bran oil moisturizes, soothes, and brightens dull, sun-damaged skin.
Niacinamide minimizes hyperpigmentation, decreases redness and blotchiness, improves skin barrier function, and helps blocks pigment from surfacing on the skin surface.
How can estheticians revamp their menus to fit the upcoming Fall season?
Offer oxygen treatments to help skin recover from dryness, dehydration, dullness, and fine lines and wrinkles that became more noticeable due to the summer season.
Incorporate Meridian Gua sha treatments into spa menu to help prepare for seasonal transition and added stressors.