Much More Than A Makeup Bar
Cure de Repos is a dynamic skin care boutique that is breathing new life into Chesnut Hill. With high-end products and luxurious treatments, Cure de Repos is cosmopolitan without being pretentious. The spa's quaint window display and inviting aromas draw city dwellers in for a tranquil escape from the hustle and bustle where they can work on achieving the best skin of their lives. With no shortage of high-tech treatments and award winning services, Cure de Repos exceeds client expectations and leaves them coming back for more.
Chrissy Dress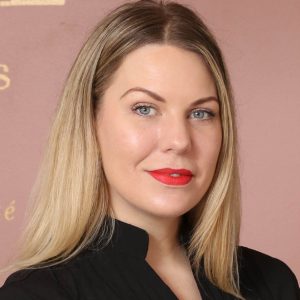 Signature Treatment
Spa owner and director Chrissy Dress says Cure de Repos' Oxygen Facial (60-minutes, $160) is the most popular treatment. In fact, this service is so popular that Chrissy recently purchased a second OxygenO+ machine, calling the results "outstanding."
Chrissy goes on to describe the treatment: "We first start out using the Hyoil cleansing system by Babor, which helps to prep the skin for the next steps. We add steam and apply the neo peptide serum to the décolletage, neck and face. Next, we use the sodium bicarbonate enzyme cap that fits into the machine's wand head and apply it to the skin over top of where the neo peptide serum was applied. This process creates a CO2 rich environment, signaling to the body to send blood rich cells to that area and oxygenate the cells from within. This process can feel quite intense if the skin's pH is off."
The serums are removed with a warm towel. Afterwards, the esthetician applies another peptide serum to prep the skin for massage performed with the device. Chrissy says, "This step helps to gently move lymph and toxins, creates micro-circulation, brightens the skin and reduces any redness. It's pretty impressive."
Finally, finishing serums are applied based on the client's specific skin needs and further penetrate with the help of an ultra sound wand. Chrissy notes that the wand gives "a nice lift and plump to the skin."
SPF and lip conditioner are applied before the facial comes to an end.
Marketing
Cure de Repos relies heavily on Instagram and Facebook marketing. Instagram is slowly taking the lead, as spa owner Chrissy Dress agrees: "Facebook used to be a better marketing tool three years ago before they changed their algorithm. Now, Instagram is really where we spend most of our time, plus it's fun!"
Google reviews also help to boost the spa's SEO ranking and search ability. Chrissy adds that Yelp is a big help as well. However, it doesn't hurt that Cure de Repos won a Best of Philly award and a mention in Allure magazine soon after opening!
Chrissy explains that recently, the spa engaged in paid advertising, such as running ads in Philly Style Magazine and Philadelphia Luxury Bride Magazine. She notes tracking ROI is critical to the success of any marketing plan. Chrissy keeps a close eye on which ads are proving to be successful by tracking ROI for each ad.
Digital marketing, specifically email marketing, can be difficult. At Cure de Repos, the spa doesn't inundate their followers' inboxes with email newsletters. Instead, they send out monthly specials and announcements. Chrissy explains that the booking system the spa utilizes sends automated emails: "They go out for birthdays, inviting clients back with a ten percent off coupon. We also have an automated email that will go out to clients who have not been in for 12 weeks, saying that we miss them and offer them ten percent off their next visit."
Community
Partnering with local businesses is a core strategy for Cure de Repos. Spa director Chrissy Dress explains: "We partner with other local businesses. We work especially close with BalanceCH, a local gym that is women-owned and has been in business for ten years. We advertise our monthly specials in their locker rooms. Each year, they host a pretty large wellness event in May and we participate by offering a DIY pop-up spa. We bring our LightStim hand held devices and panel. We offer an interactive mini-facial with Babor products; a lip masking bar with Sara Happ products; and under eye treatments with To-Go Spa. This does not cost the participant anything. They usually end up purchasing product and booking a future service that day with ten percent off for attending the wellness event."
Cure de Repos also uses traditional forms of marketing, such as post cards and flyers. Chrissy says, "We also create cute post cards with a picture of our spa front on one side, including our tag line, Much More Than A Makeup Bar. On the back is our information and a 15 percent off coupon." Cure de Repos distributes these cards at local hotels, the community center and apartment complexes with a young adult base. Chrissy also distributes the post cards at hair salons and fitness centers to attract new clients who are beauty and wellness oriented.
Training
In this industry, training and learning never stop. Cure de Repos spa owner Chrissy Dress says, "Whenever there is a new product launch, I have the trainers come in from Babor and Environ to spend the day. We do this twice a year if there is a new launch or just to refresh. We have also attended off site trainings. We have done a full weekend in Maryland with Babor and day trips to Virginia or NYC with Environ."
Trading services is another great way to practice new protocols and services. Chrissy says, "During down time, we work on each other. This helps us as professionals to learn different tips and tricks."
The spa holds quarterly meetings to go over any new changes, address any concerns, brainstorm and share ideas.