An All-Suite Spa Experience
There's so much more to Napa Valley than it's wine scene. Aside from the world's finest luxurious wines offering some serious vinotherapy, the beautiful Meditteranean climate, expansive views, grand estates, quaint towns, and legendary hospitality are what make Napa Valley one of the most attractive places to visit in the U.S. The true essence of relaxation, you can spend your day at an easy-going pace while wine tasting, feasting on farm to table cuisine, and unwinding at an award-winning spa.
The Meadowood Spa at Meadowood Napa Valley Resort & Spa is the perfect escape from the city's bustle. A place where nature and architecture enjoy a particularly intimate relationship, you can enjoy a luxurious and grounding spa treatment in your private oasis at the intuitive touch of your therapists.
THE SUITE ENVIRONMENT
Guests have their own private space in the spa with every amenity needed so that they never have to relocate or move unless they choose to use the relaxation garden. Treatments can also be experienced at the Treehouse Retreat speciality room, which is partly open to the elements of nature and includes a fireplace and hand-hammered copper tub for custom baths.
"Our spa facilities and treatment menu are designed to help our guests slow down. Take time to breathe, enjoy our gorgeous surroundings and connect with nature, our amazing staff, and yourself! Our all-suite concept gives you the gift of time and being present," says Conte.
The Meadowood Spa also features a men and women garden lounge with mineral soaking pools, eucalyptus steam rooms, dry cedar saunas, indoor and outdoor showers, and al fresca relaxation areas.
THE ESSENTIAL JOURNEY
The Meadowood Spa's most popular treatment is the Essential Journey (90 min, $225). The treatment includes any one of the spa's massages, facials, or body treatments paired with an additional 30 minutes to help ease guests in and out of their treatment.
The journey begins with a lifestyle consultation where the therapist comes up with a treatment plan. "A personalized aromatherapy steam is prepared for you to begin your relaxation, followed by your curated therapy, and we complete your service with an organic kombucha elixir to allow for gentle recovery. A treat for all senses, this allows our guests not to feel rushed through their experience and to fully enjoy our all-suite concept," says Spa Director Michael Conte.
Guests can choose from Reflexology, Swedish, Deep Tissue, and other massages, or facials like the Hydrafacial and Radiance facial. Conte's personal favorite is the Pietro Simone Prestige Facial. "This 90-minute treatment, offered at $350, is a luxury experience featuring incredible, effective products and a unique lifting dry massage technique with cotton thread exfoliation for stunning red carpet ready results."
MARKETING
The Meadowood Spa promotes its services through its resort guestrooms, members, and word of mouth. Many of the spa's guests cannot wait to return as the spa experience is one of the best they have had. This proves that marketing and social media can only go so far; it is an exceptional service that keeps visitors returning. "Our marketing team works with several kinds of hospitality partners, we offer resort packages that include spa, work with local wineries, and are increasing our followers on social media. I find Instagram is a fun way to interact with our visitors and past guests to keep them up to date with what Meadowood is doing," says Conte.
TRAINING
The Meadowood Spa takes training very seriously, and it is done regularly. The spa offers a combination of new modality training, standard service training, and retail training. "I like to have a variety of outside professionals come in to train the team, and I enjoy facilitating training as well on various topics. I offer leadership trainings at the resort and like to keep my team moving forward with knowledge. We aim to have smaller meetings monthly for treatment providers and spa concierge separately and all-staff meetings quarterly," explains Conte.
In addition to these trainings, the staff is provided a daily printed line up called Spa Buzz that serves as a mini news feed, containing important information on it for the day. This helps ensure that everyone is on the same page before starting their shift. Staff performance is reviewed annually, but the leadership team is encouraged to host brief check-ins quarterly to discuss staff performance with retail sales, guest satisfaction, career growth, and personal goals.
ONE-OF-A-KIND PRODUCTS
At the spa's boutique, guests will find everything from skincare to home accessories, books, jewelry, handbags, apparel, and gift items. "I work with vendors that are luxury, practice sustainability, and are not easily found all over. I prefer to curate items that are unique and special. Our professional product lines include Pietro Simone Skincare, Glycelene, and Aromatherapy Associates," says Conte. The spa also likes to partner with local vendors to showcase the talents of its neighbors. Some of these include jewelry designers like Carla Miller, soaps from Bella Massimo Organics, and books written by local writers.
Spa Director Spotlight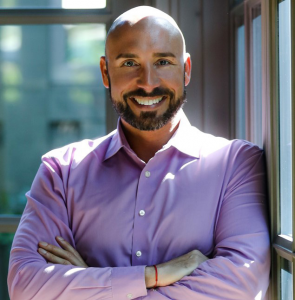 Michael Conte has over 12 years of experience in the hospitality industry specializing in luxury properties. All resort spas he has led have garnered 5-star ratings by Forbes Travel Guide. A Holistic Health Practitioner himself, he gets the most satisfaction in partnering with Greet the Day, a non-profit organization dedicated to providing free spa treatments to individuals fighting cancer.
"I lost my father to cancer when I was 26. When I decided to change careers from being a professional performer of 15 years, I chose to go into holistic studies to be able to give back after I saw what he endured only knowing the western medicine route," says Conte.