"Life, classically balanced."
Mirbeau Inn & Spa Rhinebeck is now open, introducing the award-winning Mirbeau philosophy of "life, classically balanced"—and a restaurant by the world-renowned Charlie Palmer—to New York's picturesque Hudson Valley. The third in a growing Northeast portfolio by The Mirbeau Companies, the intimate, 50-room resort welcomed its first guests in September of this year.
Like its award-winning sister resorts—the flagship Mirbeau Inn & Spa in Skaneateles, N.Y. and Mirbeau Inn & Spa Pinehills in Plymouth, Mass. Mirbeau Inn & Spa Rhinebeck is designed to help its guests find balance in modern living.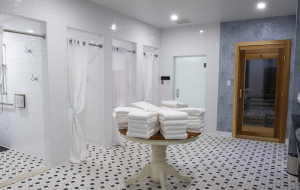 It offers gracious accommodations, a world-class Spa Mirbeau and progressive American dining at Willow by Charlie Palmer. Guests enjoy every modern comfort within the ambience of an old-world chic Parisian hotel, without the need for a passport. From Mirbeau Rhinebeck's forested surroundings on 2.8 secluded, private acres, guests are within a short stroll of the unique shops, galleries and thriving food scene of the village's historic center. This proximity makes it equally inviting for local residents, who can stop in for a buzzworthy breakfast at Willow or a signature treatment at Spa Mirbeau.
Facial Treatments
The Mirbeau Spa Rhinebeck offers a variety of luxurious anti-aging and radiance enhancing facials. The Premier Cru Facial (50 minutes, $190; 100 minutes, $290) is described as "A supreme beauty ritual providing a comprehensive anti-aging treatment for unparalleled results. The innovative micro-roller massage technique, and exclusive Hydrogel mask creates an immediate lifting effect. Fine lines and wrinkles are visibly smoothed and refined, leaving the complexion radiant, youthful, and glowing."
For spa clients looking for a more intensive exfoliation, the Dynamic Resurfacing Precision Peel (50 minutes, $145; 100 minutes, $245) is an excellent choice. This clinically proven treatment targets signs of aging and uneven skin tone with layers of enzymes for "powerful exfoliation and renewal."
Body Treatments
Mirbeau Inn & Spa Rhinebeck guests seeking to fully renew and relax during their stay are welcomed with a variety of body detoxification and purifying treatments. The French Clay Detox (50 minutes, $150; 100 minutes $255) begins with "an invigorating exfoliation to remove dead skin cells. Next, warm French green clay and seaweed are applied to the body to remove toxins, nourish the skin, and stimulate circulation. A calming scalp massage is performed while the body is wrapped and the skin is replenished with a coconut-argan body oil."
For those looking to firm up over the holidays, the Organic Body Firming Wrap (50 minutes, $150) is the perfect choice. Starting with full body dry brushing to remove dead skin cells, stimulate the lymphatic system and improve circulation, skin already starts to look brighter. Next, a clinically proven body firming serum is applied to reduce the appearance of cellulite and tone the skin. Lastly, the body is wrapped in "a hydrating cocoon while you enjoy a relaxing massage of the face and scalp."
New Treatments from Elemis
Starting in September, the Mirbeau Spa Rhinebeck introduced a series of treatments from the well-loved spa line Elemis. Clients can experience "advanced skincare with new spa treatments featuring ELEMIS, an award-winning professional spa-therapy brand. Mirbeau's new facial and body treatment offerings will feature the incredible BIOTEC Technology. The pioneering innovation of the BIOTEC machine works to switch the skin back on, increasing its natural cellular energy resulting in thriving, visibly, healthy, and energized skin."
The ELEMIS BIOTEC Firm-a-Lift Treatment (50 minutes, $195) invites clients to "rediscover the architecture of [their] face with this ground-breaking blend of massage and sculpting galvanic technology." It is designed to strengthen the extracellular matrix of the skin, restoring elasticity and firmness for a more contoured facial complexion.
For sensitive skin clients, the ELEMIS BIOTEC Sensitive Skin Soother (50 minutes, $165) is an anti-stress and anti-redness treatment designed to soothe sensitive skin. This treatment utilizes oxygen infusion to "encourage cellular restoration, while red light therapy and calming anti-oxidants improve ths kin's ability to repair itself. The result is calm and soothed skin."
Events & Promotions
In celebration of the holidays and the spa's recent opening, the Mirbeau Inn & Spa Rhinebeck is participating in several spa promotions. For example, throughout the month of November, the spa offered 50 percent off your second treatment after booking the first. This promotion was valid Mondays through Thursdays.
Let's not forget about our male clients! On November 21st, Mirbeau Spa hosted a special event for their male clientel, hosted by Michael Bruggeman, founder and CEO of Organic Male OM4 to promote the Movember Foundation, which addresses men's health issues. Guests were invited to support the well-beng of gentleman and experience event-only specials, including grooming consultations, raffles and fall facial treatments.