Celebrate the season with your spa community
October 2018 > Holiday Guide
IT'S A Celebration!
How to throw the best holiday spa party
by Carrie Borzillo
Tis the season to spread good will, thank your loyal clients, and ring up a sleigh-load of retail and gift card sales. With the perfectly planned holiday party you can achieve all that and have some fun as well. From pre-holiday shopping sales to a fun spajama party with s'mores to a French themed girls' night in at the spa, these five holiday spa party ideas are profitable and festive.
HOLIDAY OPEN HOUSE
The biggest, and most profitable, event at FACES DaySpa in Hilton Head Island, South Carolina every year is the Holiday Open House where they've been known to sell more than $60,000 in gift certificates in just four hours. The spa typically gets about 250 guests in that four-hour time frame.
Held on the Sunday before Thanksgiving, the event, which is in its 18th year, features a different theme, such as Home for the Holidays, All I Want for Christmas, and this year's theme of Tis the Season. "We'll tie it in with such things as, Tis the Season for better skin, Tis the Season to Spa at Home, Tis the Season to Just Relax, etc.," says president Patricia Owen.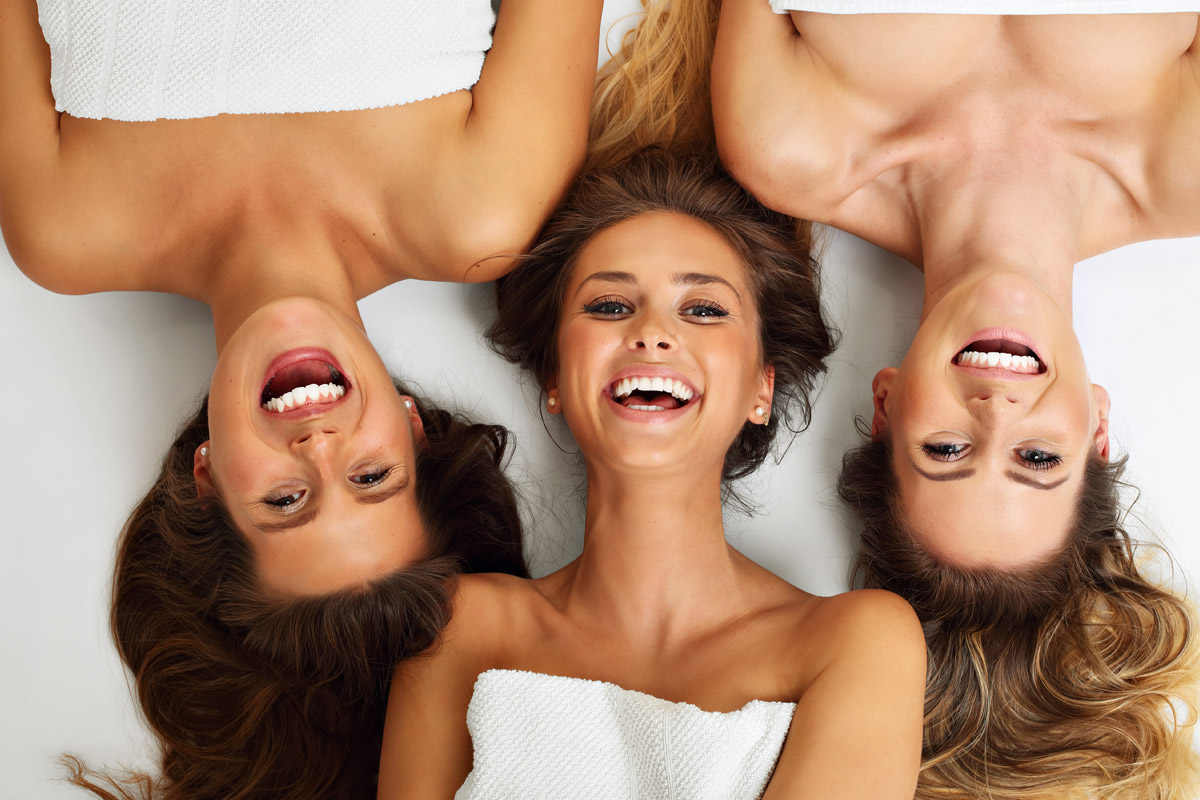 Holiday Guide
Aside from raking in the gift card sales, the event is used as a way to give back to their loyal clients. "We feel this is an ideal time to kick off the gift-giving season as well as to thank our clients for their loyalty throughout the year. Many of our guests look forward to coming year after year. One of our yearly regulars actually postponed her honeymoon a day so she would not miss it," says Owen.
Each year, the spa showcases select services with demonstrations in each of its spa stations. "To help with the flow, one of our staff members serves as a 'tour guide' taking small groups from room to room where the demonstrations are taking place. We also offer complimentary mini services, such as chair massage, makeovers, and nail art, on a first-come, first-serve basis," adds Owen.
"One of our most memorable themes was the Magical Mystery Spa Tour and we had QR codes placed throughout the spa as sort of a scavenger hunt. Each stop had a clue about a product or service that the guests would answer and be entered in a drawing for a day at the spa," says Owen.
THE PARISIAN GIRLS' NIGHT OUT
'Tis the season to say 'oui oui' to a girls' night out at the spa. Elizabeth Adam Salon and Day Spa in Chicago takes on a French theme with its annual Parisian Girls' Night Out for about 40 spa guests around the holidays.
Last year's event was a complete success. "We sold about 40 percent of our gift cards for that season, and about 45 percent in retail items. We also booked 15 new clients for spa packages and individual services. When you consider that 40 invited guests are just a fraction of our clientele it is a very good outcome," says owner Elizabeth Adam.
The main goal of the event, though, is to say thank you to their clients for their patronage. "It's also a great way to increase awareness about our existence in the area and gain new clients instantly or make them curious what this place is about," says Adam.
The spa partners with their skin care and hair vendors for support. The vendors promote their new services and products, and provide samples and gift baskets for multiple raffles. Guests are treated to mimosas, French cheeses, canapés, and holiday cookies, as well as the sampling of services, while they could shop for products and discounted gift certificates for their holiday gift-giving needs.
"We create an ambience of a small French aura salon, where women can congregate for discourse of femininity, and beauty, as well as intellectual discourse," says Adam. Romantic French music is heard in the background. Lavish flowers with holiday decorations incorporated in the arrangements are placed in strategic areas. Fragrant candles help to set the aura.
While there is technically no cover charge for the event, the spas asks clients to pay $25 when they RSVP and that amount is later applied to any purchase they make in the spa of products or gift cards.
PRE-HOLIDAY SALE EVENT
For eight years, Margot European Day Spa in Birmingham, Michigan has hosted a highly successful Pre-Holiday Sale Event offering 20 percent off all spa-wide purchase, including services, gift cards, and spa boutique retail items.
Throughout the day, the spa offers a variety of food and drinks, such as champagne, chocolates, hot cocoa, and finger foods, while a harpist creates a magical musical backdrop for the shoppers. The male shoppers enjoy Cognac and "to-go" cigars. A fan favorite is local delivery and complimentary gift-wrapping of items purchased as gifts. Of course, spa-goers are treated to samples and giveaways. Clients who bring in or refer a new client receive an additional bonus of spa bucks to be used for a future visit
"We make it effortless. We provide an online shopping list for our clients to submit to us via our web store, and encourage them to submit their orders one week prior to event for them to receive and additional gift with purchase or spa bucks to use on future orders. By doing this it allows our staff to gather, organize and efficiently prepare orders in advance and know which and how much inventory we will need to order for the big day," adds Froehlich.
SPAJAMA PARTY
What's more fun than a holiday spa party? A holiday spa party in your pajamas! The Spa at the Estate Yountville Villagio & Vintage House in Yountville, California is planning a cozy and fun Spajama Party for their members this December.
The two-and-a-half-hour event will be held in the spa for about 50 of their spa members, who are invited via email and invite cards at the cost of $25 for members and $40 for guests. The guests will be in invited to come in pajamas or will wear spa robes. A skin care vendor will offer applications of their eye masks, and sleepwear vendors will be showcasing their sleepwear. The spa's skin care brand also will have a representative talking about natural sleep remedies.
"I have done this in the past in another spa and it created a lot of media buzz, and the guests talked about the event for months. It creates good will. We want the guests to have a unique, fun memorable experience. This helps with member retention and new membership referrals," says director of spa and wellness Terry Prager.
It also helps members to get to meet and mingle. To make it festive, the spa will be draped in holiday décor with their fireplaces lit in the spa lounges. Guests will be treated to holiday treats, such as hot chocolate, s'mores, champagne, and hors d'oeuvres.
"We also provide them with gifting ideas and will have a holiday gift certificate purchase set up, as well as gifts for all of our attendees. Along with spreading good will, the spa also expects to benefit from retail sales and holiday gift purchases, including possibly memberships and gift certificate purchases," adds Prager.
SPA LA LA LA LA AT THE DEL
For many spas, getting guests to book a spa party (i.e., bridal showers, birthday parties, etc.) isn't an easy feat. But, Spa at the Del at Hotel del Coronado in Coronado, California has come up with a festive plan for this holiday season to entice spa-goers, both individuals and companies as work events, to make their sanctuary the perfect spot for a holiday party.
"The Del is known for its holiday traditions and in celebration of the property's legendary 130th anniversary, Spa la la la la at the Del is one of them! It is an easy way to promote team building while relaxing in one of San Diego's best spas. This is a great opportunity for party sizes of six-15 to indulge in an intimate celebration complete with a spa reception, light fare, champagne, retail discounts and more," says spa director Michelle Frye.
Here's how it works: Groups can book an exclusive holiday spa party and have after-hours access to Spa at The Del and all of its amenities including the steam room, relaxation lounge, spa terrace, hot tub, and facilities. The package ($250 per person) includes one 50-minute treatment of choice for each participant (anything from a seasonal facial to a body scrub), a private spa reception, light fare, champagne, ten percent discount in the spa retail shop, a party favor gift, and three hours of complimentary parking.
The Spa & Salon at The Del will transform into A Christmas Legend, aligned with the property's theme for the season, which is classic nostalgia in honor of the hotel's 130th anniversary. "Elegant decorations such as thousands of white twinkling lights on the iconic red turrets and a traditional two-story lobby tree will adorn the property, and the world-renowned beachfront ice rink will return with vintage-inspired decorations," adds Frye.