with Taralyn Freda, Owner and Lead
Esthetician at Nirvana Wellness MedSpa
Where are you located?
We are in the Northern Liberties neighborhood of Philadelphia PA.
Can you give a little information about your background as an esthetician and spa owner?
I've been an esthetician for 7 years but have been in the beauty industry for over 20 years. I opened my own spa in August 2020 during the pandemic when I realized I wanted to be able to dive into a deeper offering for my clients and give them something unique.
What inspired you to become an esthetician?
My passion for skin started when I was 18 in cosmetology school and I realized I needed to change my ways with the sun if I wanted to keep my youthful skin. When I was in my 30s I developed adult acne which changed my life. This is when I realized what an impact it can have on someone's confidence. I decided at that point I wanted to become an esthetician so I could help people heal their skin and feel better inside and out.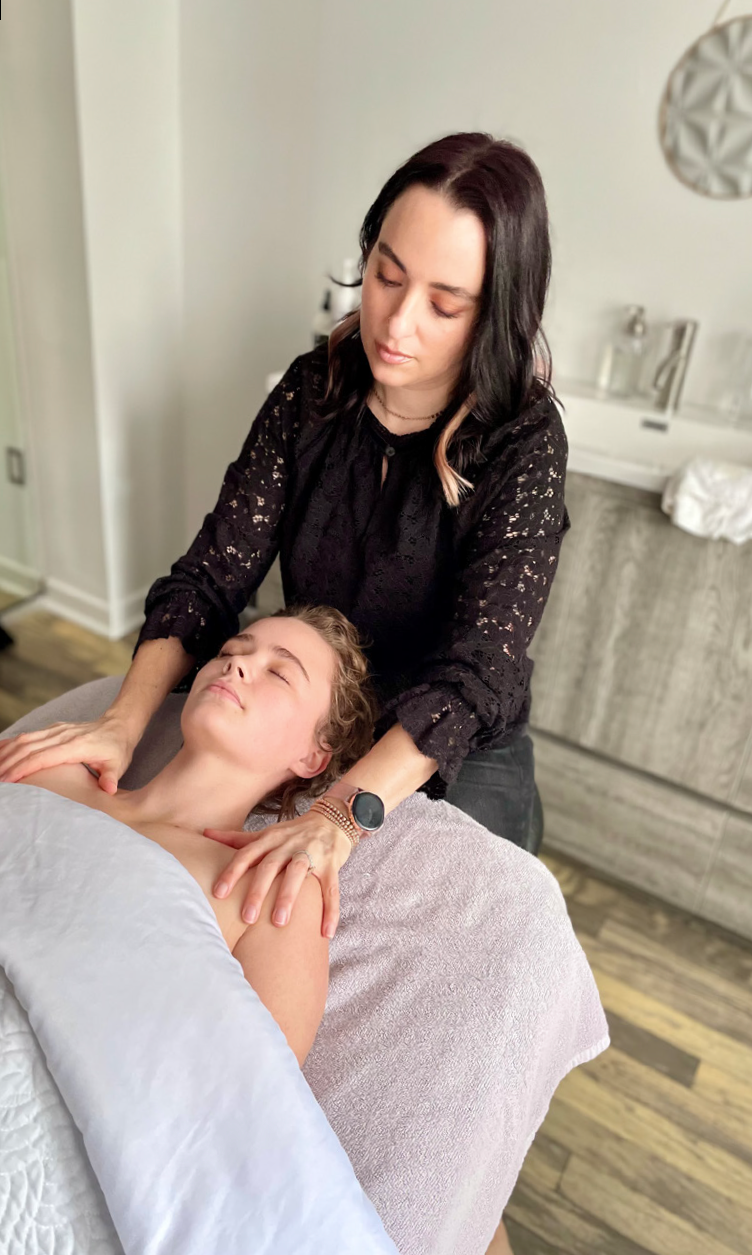 What do you love most about what you do?
Helping clients achieve their skin goal is my passion. When a client that I have been working with tells me how much I have helped them and changed their life it really strikes a chord with me and drives me.
How did Nirvana come to be?
When the pandemic started in 2020 I was laid off from the spa I was working at. At first I didn't know what to do, I was used to being on the go all the time. So I decided to lean on yoga and meditation to help ease my mind. During one of my meditation sessions I realized I wanted to help people on a deeper level so I decided to enroll in school to become an integrative health coach so I could help people feel radiant inside and out. While in school I decided to follow my intuition and open my own spa. Thankfully, my husband agreed. After a lot of hard work, three months later Nirvana Wellness MedSpa opened its doors and we have never been happier.
How is it different from other spas?
Like a MedSpa, we offer services like injectables, laser services and RF Microneedling. Where a MedSpa stops, we start with relaxing spa services like; facials, massage and waxing. We even go a step further with other wellness services like acupuncture, integrative health coaching, infrared sauna and halotherapy.  With this combination, we consider ourselves a wellness medspa.
What skincare philosophy do you stand by?
To achieve your best skin care goals I believe it is most important to get regular facials and have a good basic home regimen. Exfoliation is important, but not to be overdone as you can affect the barrier of your skin. In addition, I also can not stress enough how important it is to use SPF everyday to protect your skin from cancer and slow down the aging process.
What is your specialty? What is your favorite skin type to treat?
I specialize in facials, RF microneedling and laser treatments. I love being able to help my clients achieve the best skin possible and this combination of treatments allows me to do that. My favorite skin to treat is acneic. There are so many clients that are at a loss with what to do and their self confidence is being affected. Being able to help them love their skin and build self confidence is the best part of my job.
What is your favorite part about owning your own business? 
I love being able to offer clients an amazing experience in a positive atmosphere where they can come relax and feel rejuvenated when they leave.
What did it take for you to open up your own business?
Opening a business is not easy and takes a lot of what you may expect, a good business plan, time, hard work and dedication. For us, it also took some good timing and a catalyst, which in our case, was the pandemic. Without this, I would likely still be at my old job.
Any tips for estheticians wanting to do the same?
If you have a dream, follow it.  And if someone says you can't do it, don't listen to them.  You can do anything if you put your mind to it with conviction, it will drive you to your goals.
What are some challenges you have faced and how do you overcome them?
Unexpected roadblocks come in many forms and planning ahead for as many as possible certainly helps. From locating the perfect space, to finding your team, things may not go the way you want. Being flexible and ready to pivot quickly, helped us get to a solution. For us, being a new business, acquiring start up funds was our biggest challenge that took time and extensive searching.
What is one thing you wish you knew before opening your own business?
Everything costs three times as much as you think it will and will take twice as long to get done and you have to plan for this as best as possible.