How and when to use the latest technology
in skin tightening, brightening and healing.
Feb 2018 > Non-invasive Tools Guide
A Guide To Facial Devices
How to select the best facial devices for your practice
by Eva Sztupka-Kerschbaumer
For any professional esthetician, one of the most confusing and overwhelming things that we face is how to properly incorporate machines into our individual protocols. Not only are there a seemingly infinite number of different types of machines out there, but there are also a multitude of manufacturers making an equally large number of eerily similar machines. You are a trained and licensed esthetician. You studied hard to get where you are. You take pride in your work and most important of all, you care about your clients. You want to give them great results and you want them to be happy with the treatments you provide and be healthier because of them. So let's dive in and figure out how esthetic machines can help you become a star esthetician – you know, the professional that all the best clients in town talk about and line up to book an appointment with!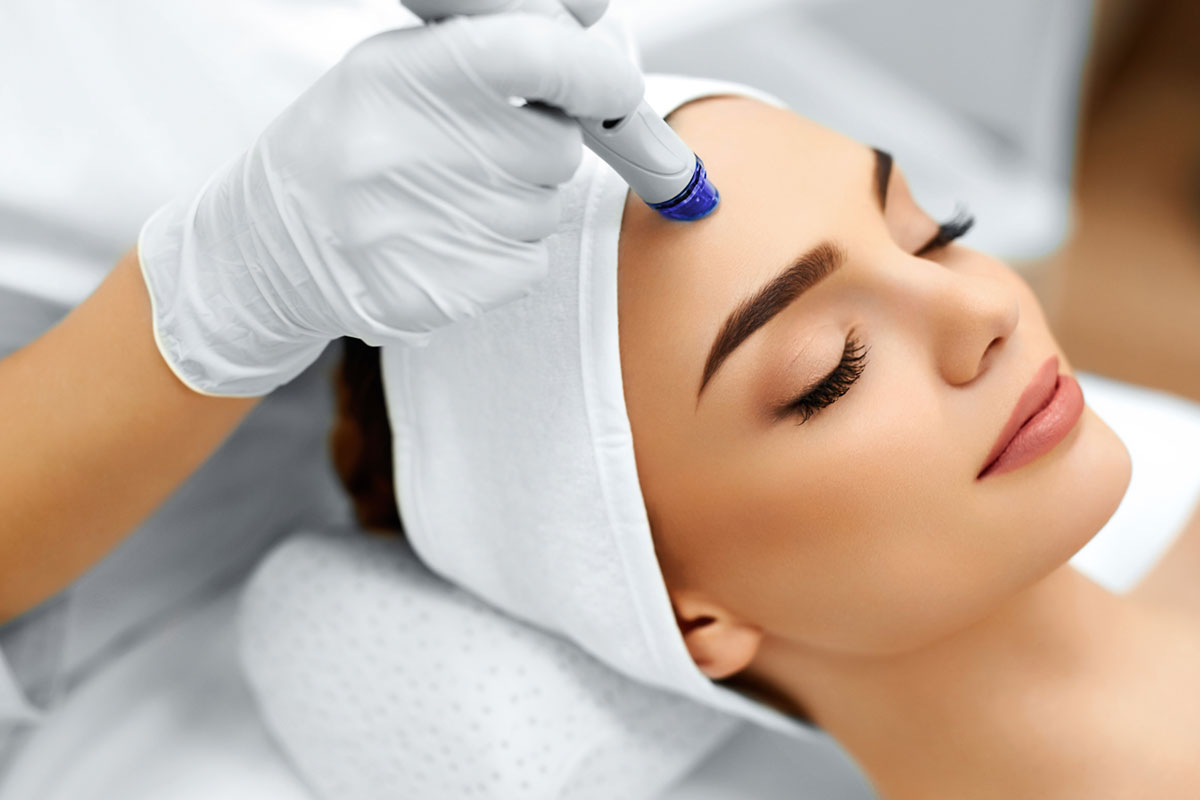 Many estheticians are firmly in the antimachine camp. Just give them a steamer, a magnifying lamp and perhaps a high frequency device. Introducing new machines can be a bit intimidating at first, but it won't take very long to get comfortable in not just using it correctly but also in encouraging clients to allow you to use it on them. Why? Because the results, when combined with traditional methods and products, are better than they were without the machine.
Microdermabrasion
Microdermabrasion is one of those cosmetic procedures that most clients have heard of, but don't really know exactly what it is. It is a procedure that exfoliates and removes the superficial layer of dry, dead skin cells using a stream of finely powdered abrasive particles or a diamond tip. The best systems have adjustable suction to vacuum loose skin cells from the face. Pricing for these machines can range from a couple of hundred dollars for a cheap diamondtip machine, to machines costing tens of thousands of dollars. I find the old adage, "you get what you pay for" to be true and I find that my crystal machines consistently deliver the best results and are virtually indestructible.
What really sets a great esthetician apart from the masses is the ability to properly and precisely exfoliate a client's skin. Sounds easy, doesn't it? But skin is a tricky thing. Too much exfoliation will tear the skin away and result in bleeding, scars, or worse. Not enough exfoliation will leave your client with unsatisfactory results and wondering what they paid you for. I am always trying to find the best way to gently remove as much skin from my clients as possible without them leaping off my table. Proper, precise and thorough exfoliation is also one of the only things that a professional esthetician can still deliver, at a more reasonable price, than a physician.
Light Therapy
The esthetics world is aglow in a virtual disco of LED (light emitting diodes) devices. First, you should know that light therapy really can help your clients achieve better looking, healthier skin. But the devil, as always, is in the details. With the prices of LED devices all over the place, you need to do your homework and study the details of whatever machine you're thinking of buying. The basic premise of LED skin therapy is that different colors trigger different reactions beneath the epidermis, and penetrate the skin at varying depths. All of these color wavelengths require a certain amount of power in order to be effective. The range in prices is as varied as the number of manufacturers. You should charge an additional $50 to $90 for an LED facial treatment.
Microcurrent
Microcurrent as an esthetic treatment has been around for quite a long time. Microcurrent stimulates, lifts, pulls and re-educates muscles. It mimics our own natural bio-electrical field and sends tiny electrical currents to the over 30 muscles in the face. Research has shown that microcurrent increases levels of adenosine triphosphate (ATP). ATP is the energy that fuels all biochemical functions in the body and boosts protein synthesis, necessary for tissue repair. Using galvanic DC microcurrent on the positive polarity is referred to as iontophoresis. During an iontophoresis treatment, a positively charged (acid pH) serum, gel or complex is first applied to the skin. The skin therapist then places the passive or inactive (negative) electrode under the client's shoulder or into their hand. The positively charged current is then delivered via the active ingredients deep into the skin via positively-charged ions or molecules. This simple electro-repulsion is ideal for treating aging skin and hyperpigmentation, as it can deliver active ingredients deep into the stratum germinativum where they can impact cells.
Microcurrent devices range in price, but the key to effectiveness is power. It is also very important to always use a water-based conducting gel (such as a hyaluronic acid solution) during operation and to stay away from the eyelids. Prepare your clients to expect a slight tingling sensation during the treatment.
Radiofrequency and Ultrasound
Radiofrequency (RF) energy treatment is the modern technology used for nonsurgical tightening of the early signs of loose or sagging skin. Pure RF energy alone is primarily used to treat skin laxity by facial tightening and is best suited for patients with mild to moderate sagging of facial tissues. Utilizing similar technology, ultrasound directs focused ultrasonic sound waves deep into the skin's layers in order to stimulate collagen production and help reduce wrinkles and fine lines and restore youthful texture and tone. Both technologies are commonly used to treat the forehead, under the eyes, cheeks, mid-face, jaw line, and neck. By applying RF/ultrasound energy to the skin, which can conduct current and therefore act as part of the electrical circuit, any resistance encountered by the energy flow will cause heat to be produced at the site of maximum resistance. Via this treatment, radio/ultrasonic waves penetrate the patient's outer skin layers, delivering heat energy deeper into the dermal layers. This heat is supposed to help stimulate collagen production and that, in turn, triggers tissue contraction. The overall result should be tighter, brighter skin and a significant reduction in sags and wrinkles.
"The overall result should be tighter, brighter skin."
Due to radiation of high-energy radio frequency/ultrasound, the process requires extreme care in its execution, for improper application may result in dents on the skin surface due to uneven healing responses on the skin. Many effects including fat necrosis and atrophic scarring have also been reported. These issues are more related to high-power machines usually found in medical offices and are not typical when using small handheld devices.
Some ultrasonic devices (with versions made by multiple manufacturers with a wide array of power and usefulness) are sometimes called skin scrubbers. They use ultrasonic waves to both exfoliate the skin and help the skin absorb products. Oscillating between 24,000 and 30,000 vibrations per second, these devices exfoliate the upper layer of the skin, which allows for greater cellular turnover and greater product penetration. Used properly, the treatment feels somewhat like a sonic toothbrush against your skin and it can be a very effective tool, as is stimulates with little to no negative side effects. As before, power is key so search for a device that actually plugs into a wall.
A World of Possibilities
The machines and devices now available open up a whole new realm of possibilities for the professional esthetician to deliver advanced treatments to their clients. With any of these machines, you should expect to charge your clients an additional $50 to $400 per treatment, depending on your location and experience. But at the end of the day, the best machines you could ever hope to use as an esthetician are your hands and your head. Train yourself to know what makes a person's body, skin and face work. Constantly educate yourself on not just what products work, but also on the specific ingredients that deliver the results. And constantly practice using your hands to deliver a facial or other esthetic treatment that can be compared to no other.