YOUR guide to the best eye care treatments in the spa!
May 2017 > It's All In The Eyes!
All About Eyes
Giving fine lines the royal skin care treatment
by Rhonda Allison
Can you remember the first time you noticed them — those fine lines around the eyes? For women in particular, this is our first area of aging concern. Every year, millions of Americans undergo some sort of rejuvenation treatment for their eyes. And it makes sense — the eyes are the first place on the face that we all notice and zero in on.
From crow's feet and wrinkles, to puffiness, under-eye bags, dark circles and crepe-like lids, the eyes reveal a lot — fatigue, stress, aging and the list goes on. While the skin around the eye region is more delicate, and certainly comes with its fair share of challenges, it presents an opportunity for esthetic professionals to create the most change.
From the treatment room to home care, how do you give the eyes the royal treatment and help clients restore and preserve a youthful appearance? It starts with a deep understanding of the anatomy of the eye contour along with a blend of the right treatment room techniques and top pro-youth ingredients.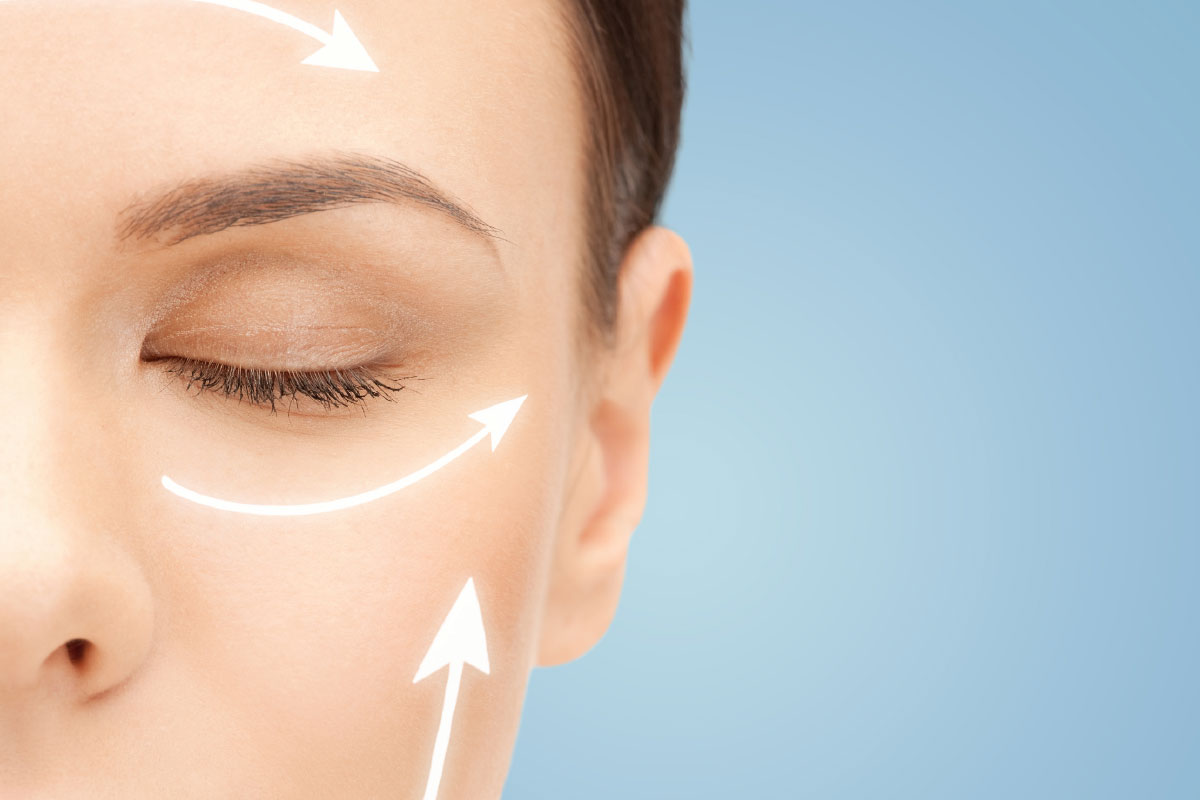 Face    
The skin around the eye is the thinnest (by approximately 10 times) and most delicate on the face. As such, it also tends to be more sensitive and susceptible to the visual signs of aging. The area also experiences a lot of movement throughout the day. From squinting to smiling to blinking, the area is in perpetual motion. As the skin ages and loses elasticity, the delicate eye tissue thins even more and these rote muscle movements begin to leave an impression.
Of course, genetics, how the eyes are cared for and lifestyle choices also impact the aging of the eyes. Smoking, excess sun exposure, chronic stress, lack of sleep, as well as sleeping on unforgiving fabrics, rubbing the eyes, and applying and removing makeup all contribute to premature aging of the eye region. Understanding how this delicate area responds to environmental aggressors, treatments and ingredients help you design customized anti-aging programs to achieve the results your clients want.
Treating the complexities of eyes  
Invasive surgical procedures are not the only way to restore the eyes' youthful appearance. In fact, light peels and enzyme treatments that specifically target the eye region reduce the appearance of fine lines, dark circles, wrinkles, puffiness and inflammation.
As with any facial treatment, proper preparation is essential to producing the results you and your client are aiming to achieve. Starting with a good eye cleanser that is designed for eye tissue such as a green tea, chamomile flower extract or a gentle milk base, which removes impurities and prepares the skin for treatment. For makeup removal, soak eye pads with a gentle eye cleanser and allow it to rest on the eyes for a few minutes.
Next an enzyme may be applied to start the surface exfoliation. Use caution not to get too close to the eyes and always avoid the eyelids. Prior to enzyme application, depending on the treatment, you might apply a peptide serum or lifting formula to the eyes. The enzyme supports the absorption of those ingredients.
Gel-based papaya and pineapple enzymes are great for the eye area as they support the digestion of the stratum corneum, making the skin more absorbent. L-Lactic acid also provides gentle exfoliation while improving cellular renewal and delivering a potent dose of antioxidants when combined with antioxidant-rich ingredients like pomegranate. For peel treatments, salicylic, glycolic, L-lactic, retinol and flower acids stimulate regeneration while providing hydration and strengthening. Flower acids, considered secondgeneration AHAs, are less irritating and deeply hydrating, making them ideal for sensitive skins.
Following the enzyme, a variety of masks may be used. A milk-based mask hydrates, nourishes and gives anti-inflammatory support, while a protein and vitamin A-based mask provides intense stimulation, and the muscles around the eye receive a workout to tighten sagging skin. Finish the treatment with a hydrating, omega fatty acid and peptide serum to further nourish and strengthen the skin.
Eye treatments may be incorporated into nearly any facial or as an add-on. For instance, during a facial, you might chill and saturate eye pads with a hydrating toner before placing them over the eyes to provide hydration and nourishment. The cooling sensation also reduces puffiness. Chilled ice globes gently rolled around the eyes delivers a similar effect and clients love the cooling sensation.
Eye massages are another great add-on. Using a hydrating, antioxidant serum with nourishing essential oils, start with double circles on each eye then spider-walk with your fingers around each eye, gently pinch the eyebrows, then do small and large figure eights around the eyes.
An eye on powerful ingredients   
Since the skin around the eye differs quite drastically from the rest of the face, it needs extra hydration, cell regeneration, circulation and collagen support. Today, there are numerous ingredients — some tried and true, some new advancements — that support youthful, radiant eyes:
• Retinol and encapsulated retinaldehyde
Both of these ingredients work to stimulate cellular regeneration and strengthen skin tissue. Encapsulated retinaldehyde, however, is less irritating to the skin and performs closest to retinoic acid, where it provides powerful wrinkle reduction and prevention.
• Peptides
These will stimulate fibroblasts, the building blocks of collagen, and signal the skin to produce more collagen while reversing the effects of free-radical damage. A newer advancement, chrono peptide, encourages 24-hour pro-youth activity. It triggers the circadian genes, activating the skin's natural defenses against environmental stressors during the day and cell regeneration at night.
• Hyaluronic acid
Supports moisture retention, provides nutrients and removes waste from cells, allowing nutrients to move into the cell. It also promotes keratinocyte proliferation and increases retinoic acid, which preserves the skin's hydration.
• Tocopherols
A natural form of vitamin E, these provide antioxidant support and strengthen the skin.
• Plantago lanceolata leaf extract
An organic stem cell, it rebuilds, brightens, improves elastin synthesis and smoothes the skin. It also prevents melanin overproduction, inflammation and oxidative stress.
• Chrysin
A flavonoid, it reduces inflammation, lightens dark circles and provides antioxidant support. It also stimulates enzymes to clear infra-orbital shadows under the eye caused by hemoglobin accumulation.
• L-Lactic acid
An AHA with hydrating and regenerating properties, it reduces wrinkles and corrects pigmentation issues.

• Ascorbic acid (L)
A vitamin C derivative, this strengthens collagen, brightens and helps reduce wrinkles.
• Spin trap (phenyl t-butylnitrone)
This is considered an "intelligent" antioxidant. It works by trapping free radicals and transforming them into oxygen to be transported back through the respiratory cycle.
• Ruscus aculeatus (butcher's broom)
This evergreen plant works to strengthen blood vessels and promote circulation and blood flow.
There are numerous other ingredients that support healthy, radiant eyes — it truly requires an understanding of your client's skin to create a customized approach to their treatment plan — in the treatment room and at home.
Luxurious eye treatments at home  
A daily regimen should aim to correct, strengthen and protect to support the work you're doing in the treatment room. A morning routine includes a good moisturizer, a skin-building peptide formula, an eye revitalizer and mineral sunscreen in the morning. For an evening regimen, start with a daily cleanser. If the client wears makeup, encourage them to use a gentle makeup remover at night, and their favorite cleanser for the rest of the face. An encapsulated retinaldehyde, organic stem cells and vitamin C stimulates cell regeneration while strengthening collagen, and rebuilding the skin.
For a quick perk-me-up for tired eyes, have clients dab a small amount of a cherry and AHA-based enzyme around the eyes and leave on for five to 10 minutes. Finish with a revitalizing, peptide eye serum to leave the eyes feeling hydrated, bright and taut.
Encourage clients to get a good amount of sleep, proper nutrition and avoid smoking. These healthy habits, in addition to regular spa treatments and at-home care, help clients reverse the signs of aging and maintain youthful eyes. Most importantly, they always keep people guessing on age.